Sacred Reflection of Ones Self
Do you find yourself easily 'stressed out'?
Do you have a hamster wheel running in your head?
Thoughts racing? Lose focus easily?
Difficulty sleeping? Too much or too little?
Easily angered with your kids or spouse?
Do you experience panic attacks?
Digestive difficulties?
Do you worry about your health a lot?
Women who report their Stress has climbed in last 5 years
Then this Retreat is meant for you!
This Retreat is geared towards empowering the alignment of self through Mind, Body, Heart and Soul, as we regain strength from the inside out. We work with all elements of consciousness and ourselves in order to recharge the battery of life. Each step or process allows us to grow, unblocking us to energetically adjust our emotional and psychological fields.
Explore Nature and be more connected to the Elements
Become more mindful
Figure out what's holding you back
Learn how to break habits that don't serve you
Feel emotionally balanced and energized
Communicate effectively
Cope with the stresses of life
Deepen your sense of spirit
Then this the retreat for you!!!
Imagine living with more peace in life...
Imagine having resilience and the ability to effectively deal with stress while limiting your anxiety.
This week will allow you to explore a number of techniques that you can bring back with you to deepen your practice, or even start anew.
Most of us live in a state of reactivity, this week will help you to learn your triggers to ease a transition of living in the present moment as you cultivate awareness of whatever happens in your life. Life still happens, but when we can learn the techniques on how to be present to every aspect of our lives we become less reactive to emotional situations and able to better respond to those events in our lives.
This is a FEEL GREAT week! All but one, home-cooked meals!
This week has a focus on all aspects of your self-awareness – Mind, Body, Heart and Soul!
Come into physical balance with daily Forest Bathing Walks, Yoga or Moving Meditation classes that will flex your muscles as well as your mind and spirit. Create permanent stress reduction with mindfulness practices as you bring your resilience into an emotional balance. Building on your coping strategies, you will learn or enhance the tools to better cope with the stresses of every day life. Explore yourself via walking, connection to nature, meditation, food and group discussions. Become your own best friend as you meet new friends!
Here are some reasons this week can benefit you:
Reduced anxiety & panic feelings

Increased coping with feelings of depression, anger, or other strong emotions

Improved sleep patterns

Improved immune system

Lower blood pressure

Opening doors to new ways of 'seeing'

Increased ability to manage chronic pain

Taking time just for you

Understanding how stress manifests physically and emotionally
This retreat is an all-inclusive and naturesque experience that includes all your needs.
Experience with various modalities of healing may be included:
Mindfulness

Sound/Music Workshop

Crystal Reiki/ Energetics

Yoga

Meditation

Group Discussion

Art & Music Workshops

ThetaHealing

Chakradance

Affirmations

Journalling

Healing Circle

Medicine Wheel or Wellness Wheel
The Sacred Reflection to Oneself Retreat Outline
We will begin on Sunday, July 25 at 4:00 pm and end on Friday, August 2 at 4:00 pm. Take a peek at how the weekend will flow.

* Note: this schedule is subject to change based on weather and facilitators.
Sunday, July 26
Arrive between 2:00-4:00 pm; settle in to your cabin
4:00 pm – Introductions and review agenda for the week
5:30 pm – Dinner
7pm – Workshop
Monday, July 27 – Thursday, July 30
7:30-8:00 am – Meditation – explore a different style of meditation each day and see what resonates with you
8:00 am – Breakfast
9:30 am – Yoga or Moving Meditation
10:30 am – Forest Bathing**
12:30 pm – Lunch
1:00 – 2:00 pm – Free Time and 1 : 1 coaching sessions. (20 minute sessions are optional and offered at no extra cost this week)
2:00 – 4:00 pm – Workshops *topics vary daily
4:00 – 5:30 pm – Group participation to prepare meals
5:30 pm – Dinner
7:00 pm – Relaxation Practice or bonfire or evening yoga or meditation
Friday, July 31
7:30-8:00 am – Meditation – explore a different style of meditation each day and see what resonates with you
8:00 am – Breakfast
9:30 am – Yoga or Moving Meditation
10:30 am – Forest Bathing**
12:30 pm – Lunch
1:00 – 2:00 pm – Free Time and 1 : 1 coaching sessions. (20 minute sessions are optional and offered at no extra cost this week)
2:00 – 4:00 pm – Workshops *topics vary daily
4:00 pm – 6:00 pm – Depart at your leisure
Each day offers:
Mindfulness practices

Physical practices – yoga, moving meditation, hiking, gardening

Discussions and workshops to help change unhealthy patterns of thinking and behaviour

Meals & snacks

Peace and quiet

Free time to reflect, nap, or climb a tree

New connections, new friends, create a new healthy relationship to yourself
*Workshops: Each day will vary, but will include stress reduction techniques, communication styles, discussions for distorted thinking patterns, motivation, and more. This retreat is designed to help find balance to physical, emotional, mental or spiritual aspects of living that perhaps you are struggling with.
**Forest Bathing experiences will vary based on location chosen
One-to-one coaching sessions are available during free time periods.
All of our meals are prepared each day as a group taking turns to prepare, cook, set and clear the tables as we dine together, providing further opportunities to connect and bond together.
Throughout the week, one meal will include a boat ride to Quebec as we enjoy a meal at La Bannik. La Bannik is a picturesque and enchanting setting located on the shores of the majestic Lake Temiskaming in the municipality of Duhamel-Ouest.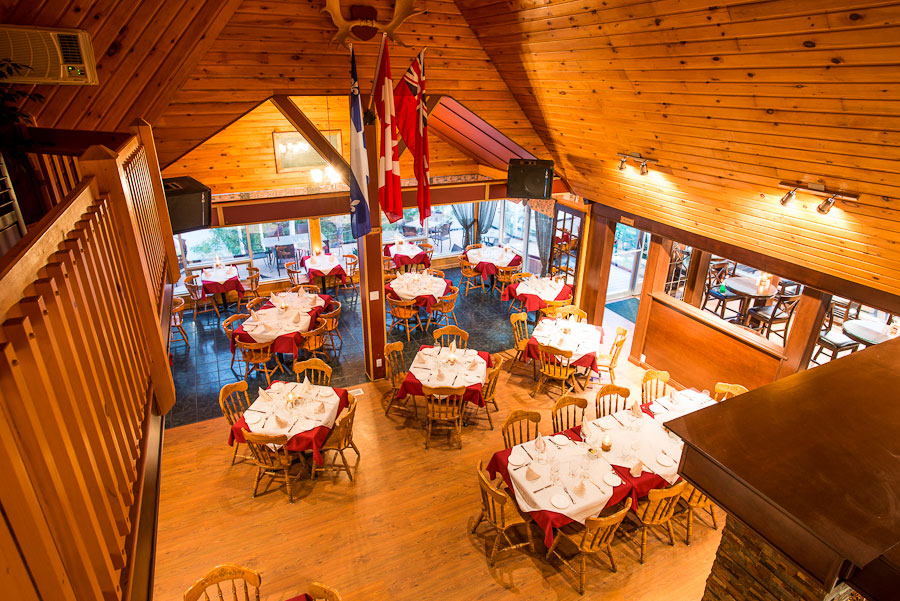 An overhead view of La Bannik's dining room.
Registration Details
Dates: Sunday, July 25, 2020 at 4:00 PM – Friday, July 3, 2019 at 4:00 PM
Cost: $1,430 + HST all inclusive shared accommodation
(There will be 2-6 people per cabin)
Register now!
Rollie Allaire, Life & Wellness Coach
Rollie Allaire is an experienced Holistic Life & Wellness Coach and Soul Healer. She has worked with women who have experienced childhood trauma, sexual trauma, and domestic violence by supporting and guiding them as they retrieve the lost parts of their souls and achieve wellness, joy, and success.
Since 2001, she's drawn on her extensive career background of clinical psychotherapy skills in combination with Chakra work, Crystal Reiki, Akashic Records reading, and Moon Medicine teachings to facilitate her clients' journey to wellness.
Rollie strongly believes that each person has the ability to heal themselves and that her job is to bridge the gap between the client and the methods that best suit their process.
Patricia Hewitt, Old Mission Resort
For as long as Patricia Hewitt can remember, she has always had an interest in the health and well-being of diverse individuals. For a decade she worked in public health, yet her entrepreneur spirit was never quite satisfied. She had an idea of owning a remote resort on lakefront property surrounded by the splendor of Nature where individuals can come to be rejuvenated and inspired. As a firm believer in wholistic health and the body's ability to heal oneself, she would often escape to Nature to nurture herself during times of stress. Her vision is to offer Nature retreats where women can come together, unwind, connect and inspire themselves and one another to foster a life of passion, purpose and joy!
About Old Mission Resort
Learn more about your home away from home for the week.
Old Mission Resort is a Hidden Gem nestled in one of the loveliest bays overlooking Lake Temiskaming. A haven sheltered by high rock cliffs, old growth pine, endless trails, remote mile long shorelines, …all yours to discover at your leisure. The resort is located off the grid, ideal for those wishing to reconnect with Nature and replenish their sense of well-being. There is a plethora of activities to choose from, however, we are working towards an experiential tourism product that ties into the heritage, arts & culture of the region as well as providing retreats and excursions in natural settings to escape the stresses and rigors of modern life. Every aspect of Old Mission Resort will be designed to create an atmosphere of tranquility and simplicity, where people can go to be reinvigorated by unspoiled Nature.
Visit their Website
Ask your Employer to Sponsor You!

"In 2011, mental health problems and illnesses among working adults in Canada cost employers more than $6 billion in lost productivity from absenteeism, presenteeism and turnover." – Mental Health Commission of Canada
This means that many organizations (public and private) spend millions of dollars so their employees can stay home on 'stress leave'. What if you could reduce their stress by giving them the tools to feel more productive at work and happier at home?
Women who have attended these retreats report feeling more in control of their stress, less anxious, inspired and more content. With a background in mental health and addictions, Rollie helps women learn resilience, self confidence, self awareness, emotional intelligence, and increase in self-esteem so they can bring their passion, creativity and enthusiasm back to their workplace. If you have an open-minded manager, ask if they would be willing to support you as you do this very important work. Make sure to tell them that you will be doing this weekend intensive work on your own time. You have nothing to lose!
Forest Bathing Walks
Each day will include a Forest Bathing Walk.
North Shore Trail
There are these perfect beautiful art pieces personally crafted by Mother Nature that you find in the forest. The trails at Old Mission are sure to delight the senses! Let the scent of cedar surround you as you relish the crunch of leaves beneath your feet with every step as the sound of the waves get louder and louder until you reach the North Shore! Too lovely an adventure to pass up!
With 1½ kilometers of shoreline, Old Mission Resort is located on 288 acres of pristine landscape overlooking scenic Lake Temiskaming. The property encompasses Mission Point, the site where, in 1866, Temiskaming Districts first church, school and hospital were built. The site fostered relations between the French, English and Algonquin peoples who came together to trade at Fort Témiscamingue, a Hudson's Bay Trading Post located nearby on the Quebec side of the lake. Historically, Indigenous people frequented the area for over 6,000 years – undoubtedly for the abundant fishing and hunting opportunities that still entice people to the area today.
Enchanted Forest
With a short boat ride across to Fort Témiscamingue. Fort Témiscamingue was a trading post from the 17th century in Duhamel-Ouest, Quebec, near Ville-Marie, Canada, located on the fur trade route on the east shore of Lake Timiskaming. The fort is a National Historic Site, operated as part of the national park system by Parks Canada.
The beautiful pebble beach and the enchanted forest will charm you during your stroll in this site that borders Lake Temiskaming on the east side of The Narrows where the two shores of Lake Timiskaming come closer than 250 meters (820 ft) to each other a former Algonquin encampment site called "Obadjiwan Point" (meaning "the strait where the current flows"). On the west side of The Narrows on the other shore is our North Shore.
Of particular interest is a forest of cedar trunks so twisted that it was nicknamed the "Enchanted Forest". This will be where will enjoy our Forest Walk as we then head over to La Bannik to enjoy a dinner.
Devil's Rock
A short drive will lead us to the Devil's Rock Trail.
Devil's Rock is a granite escarpment, located 5 kilometres south of Haileybury, Ontario, Canada. It is dated to be 2,200 million years old and it has a face of 600 feet rising 300 feet above Lake Timiskaming. There are five tunnels in the cliff's face that were made from rock blasting between 1907 and 1912. It is a local treasured area of beauty with hiking trails, and is often depicted in local art.
*This property is currently listed for sale by the City of Temiskaming Shores, hence, there's a possibility that it may sell. An alternative Trail will be chosen to substitute this Forest Bathing Walk activity.
Hermit Lake Trail
A short drive will lead us to Hermit Lake Trail. This trail boasts a rocky crevasse, maple forest, open shield rock, three lookouts and a view of Hermit Lake.
This trail features this hidden lake, a secret valley and a sugar maple forest surrounded by hills crowned with pines. The scenic alpine views and several outstanding panoramic vistas are visible from the hilltop trails.
What to Bring
Here are a few suggested items to bring while staying at Old Mission Resort:
Towel for showering or beach – we provide all bedding, pillows, duvets

Flashlight – there is power in each cabin

Alarm clock

Ear plugs (if needed)

Layered clothing for the season

Sunscreen, bug repellent

Slippers

Water bottle

Travel mug – if you want hot tea/coffee during our activities

Sunglasses

Hat

Appropriate footwear for weather, hiking and beach

Comfortable clothing – let yourself relax, nothing formal here.

Please bring enough warm and cool clothes for the week, please come prepared for all types of weather.

Rain Coat (umbrella, rain pants, and boots optional but nice if it rains)

Swimsuit

Blanket/sleeping bag (sheets and pillows are provided on the beds)

Camera (lots of images to capture)

Toiletries (including Shampoo, Conditioner and Body Wash) – there are separate shower facilities

Yoga Mat/Lounging Blanket

And you, of course! We can't wait to meet you!

Old Mission Resort is a picturesque, rustic outdoor atmosphere. Our region requires varied and appropriate clothing throughout various seasons. We are on the shores of Lake Temiskaming, so in the summer bring your bathing suit and beach gear.
Please avoid the use of perfume, cologne, scented hairspray or other scented products. Scented products can trigger reactions in people with asthma, migraines, allergies or chemical sensitivities. Often Essential Oils are tolerated by many with chemical sensitivities, but we still need to be mindful. Ordinary deodorant is perfectly fine.
Any valuables not needed for your stay should be left at home. We've never had anything stolen here but to give yourself one less thing to worry about, just bring what you need.
If you smoke please ensure you're a fair distance from the building so that the smoke doesn't drift in through open windows. Please do not leave cigarette butts on the ground but rather put them in the garbage after extinguishing.
Frequently Asked Questions
I live close-by. Can I travel back and forth?
No. A very important part these Wellness Retreats is building trust within the group. When women come and go, it breaks that bond being formed that builds the trust within the group, changing the dynamics.
What is the cost of the Retreat?
Cost includes meals and accommodations. Cost per woman is a total of $1615.90 including tax (1430 + HST).
What is included in the cost of the Retreat?
6 Days, 5 Nights Accommodation, 14 meals and a variety of workshops.
What is the cancellation policy?
Where do I park?
Parking is free and on site. You will be able to drive your vehicle to the cabin to unload.
What are the accommodations like?
There are 8 cabins which provide 2-8 beds. This cabin is completely self-sufficient with propane to light the cabin and a wood stove. A fridge and stove in included with each, however, we will be providing the meals in the Main Chalet.

Are there bathrooms in the cabins?
Yes! Each cabin is equipped with a toilet and running water.
Do I need to bring my own bedding?
A bed is supplied with sheets and pillows but you need to bring your own blankets. Feel free to visit the suggested packing list page.

Are there showers? Where?
Yes, there are shower facilities about the middle of the Resort.
Will there be spare time? What can I do in my spare time?
The schedule is busy with many opportunities to relax and self-reflect. Our evenings will be fireside (weather permitting) for fabulous energy and experiences. In your spare time feel free to explore the grounds of Old Mission Resort, relax in the large gazebo, go fishing, enjoy a kayak or canoe ride, go for a swim, lounge inside or outside your cabin or whatever your heart desires. We will have a daily Forest Bathing Walks.
Do I need to pay for anything once I'm there?
Although all your food, accommodations and workshops and Reflexology are covered, you may like to bring some cash for other products and/or services that may be available.
What happens if it rains all week?
The weekend will continue as scheduled in warm and dry protected areas. Please pack for weather conditions.
Is there Wifi or Cell Service?
There is no Wifi. There is Cell Service, but we ask that until Free Time, all cell phones are off.
Can I come alone or do I need to come with friends?
An Old Mission Resort and Bridging the Gap Wellness Retreat is a great place to come with friends and it is also a wonderful way to make new friends. Whether alone or in a group there will always be something to do and people to meet. Not everyone is coming with friends and not everyone is coming alone. One of our favourite feedback mentions is that everyone felt so welcome and included.
Will I get a receipt?
If you require a receipt please let us know in advance and we will have that for you on the weekend when you check in.
What should I bring?
You can find the Suggested Packing List here.
Why haven't I booked already?!